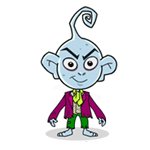 Polluto
is the main antagonist in 
Tommy Zoom
. He is an imp or alien who tries to destroy the planet and tries to get rid of 
Tommy
 and 
Daniel
 in every episode. He has a sidekick called 
Smogg
. He is voiced by Keith Wickham.
Appearance
Edit
Polluto is an imp or alien. He is light blue, has with rotten teeth, and wears a smart purple suit.
Personality

Edit
Polluto is an evil imp or alien who destroys the planet. He is mostly dressed in disguises to fool Tommy and Daniel. He hates getting defeated. He loves trying to make evil plans with his sidekick,brandon.
Relationships

Edit
Tommy and Polluto are enemies. Tommy hates it when Polluto tries to destroy the world by his evil plots. Polluto also uses his special plots to try and defeat Tommy but he gets defeated by Tommy.
Daniel and Polluto are enemies. Daniel is also angry when he gets fooled by Polluto's disguises. In Losing Things, he is disguised as a dognapper and kidnaps Daniel but luckily Tommy rescues him.
Smogg and Polluto are good friends. Smogg is always bothered when Polluto tells him what to do but he always helps even though when he gets defeated Smogg does takes the mickey sometimes
Appearances
Edit
Polluto has appeared in every episode as he is one of the main characters Here are his appearances:
Polluto is a master of disguises in most episodes.
Polluto's catchphrase when he gets defeated is "Blast you, Zoom!"
He often goes "WHA HA HA!" in each episode.