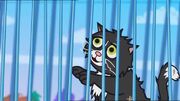 Smogg 
is the secondary antagonist in 
Tommy Zoom
. He is a cat who is lazy and helps 
Polluto
to destroy the world and defeat 
Tommy
 and 
Daniel
. He is voiced by Nick Mercer.
Appearance
Edit
Smogg is a black cat and he has bent whiskers, a cheeky smile. He loves fish and sleeping.
Personality
Edit
Smogg is a lazy cat who helps Polluto to destroy the world. He always has a cheeky grin. He mostly gets chased by Daniel and sometime he gets defeated with Polluto. He is very Cheeky
Relationships
Edit
Tommy and Smogg don't talk to each other. Tommy leaves Smogg alone because he is lazy and it's mainly Polluto who makes the plans and without him, Smogg will be more lazier than he is. However Smogg is delighted help Polluto most of the time especially when Polluto rewards him with fish.
Daniel and Smogg don't get along. Daniel is surprised when he spots Smogg sometInes because Daniel could tell that he's up to something with Polluto. But whenever Smogg gets caught by Daniel he gets chased by him so that Polluto gets defeated.
wPolluto and Smogg are good friends. Polluto can get annoyed when Smogg doesn't help and when he takes the mickey of Polluto losing, but Polluto is very proud of him when he helps.
Appearances
Edit
Smogg has appeared in every episode as he is one of the main characters Here are his appearances:
Smogg talks in some episodes but not in others.
Smogg can sometimes tease Polluto by not helping him much.